Governorship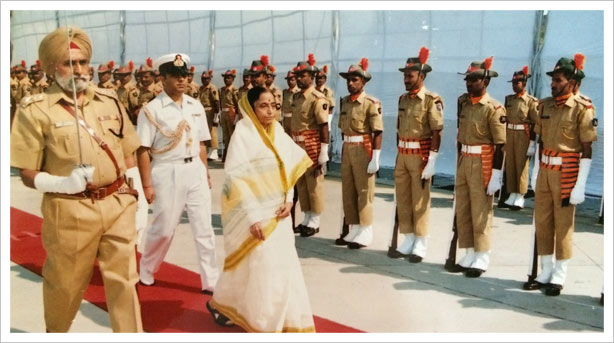 First Woman Governor of Rajasthan
On 8 November, 2004 Tai assumed the office of the Governor of Rajasthan becoming the first woman to hold this august office. The fact that the State was governed by Mrs. Vasundhara Raje from Bharatiya Janata Party was not at all an issue. Tai discharged her duties meticulously, impartially and in the best interest of the State. She proved beyond doubt that with a principled and just attitude, any assignment can be handled objectively and effectively.
As Governor, Tai's responsibilities were varied, she was Head of the State of Rajasthan, Chancellor of all State Universities and Chairperson of the West Zone Cultural Center. She ensured that each and every role was given equal importance.
She indulged in diverse areas of activities where on one hand she addressed the 'International Conference on Exploration and Utilization of Moon' and inauguration of the 'National Conference of Association of Plastic Surgeons of India', on the other hand she encouraged 'Aao gaon Chale', a nationwide rural health project and flagged off a rally against 'Bhroon Hatya' (foeticide).
Rural Healthcare Initiative
In order to give a thrust to primary healthcare, especially in the arduous region of Rajasthan, Tai initiated a proposal based on the "Parinche Valley" project being implemented in Purudhar taluka of Pune district. The project run by the 'Foundation for Research in Community Health' under the guidance of Dr. N.H. Antia provides for an alternate approach to rural healthcare wherein a female 'Community Health Volunteer' is trained and equipped at the village level to provide health service and education, especially to the rural women. Tai observed, "Women once trained in healthcare would be in a position to handle seventy percent of the health problems in villages. They can also be given the added responsibility of bringing about awareness about the prevailing social evils and the manner in which they can be eliminated by the women folk." The Government of Rajasthan gave the proposal the due it deserved and pilot projects were implemented in five hard and backward locales of Rajasthan namely, Barmer, Banswara, Bharatpur, Jhalawar and Sikar.
Outreach to Widows
Posterity will remember Tai for the initiatives she took for the war widows. She wrote personal letters to more than twelve hundred widows, residing in different districts of Rajasthan, asking them to share their problems with her. She met all those who made a request, heard their miseries and promptly took up their cases with the concerned Government departments. Because of her sustained efforts nearly four hundred cases were resolved. War Widows' Hostel and Rehabilitation Centre, Jaipur which was dysfunctional despite being in existence, was operationalized. It was to provide relief and succour to the widows in case they were subjected to harassment of any kind. In a state where problems pertaining to widows is quite acute, Tai's thoughtfulness touched the right chord.
Tai's passion for creating an enabling environment for the destitute women especially widows, so as to make them economically self reliant, led her to evolve a scheme named 'Mahila Swayam Siddha Kendra'. The main purpose was to provide temporary housing, education and vocational training to these women, so that they could earn a livelihood and live with dignity. Fifty acres of land was reserved for this Kendra, at the insistence of Tai.
University Education
"Education is the only way to dispel ignorance" Any act which tampered the reputation of this noble institution propelled her into action. She was deeply alarmed with the quality of research papers which were being generated in various universities. When cases of plagiarism were detected in some universities, Tai urged all the Governors and Lt. Governors to direct their Vice-Chancellors to initiate their individual website wherein they could give details of the registered research topics and their synopsis. This innovative suggestion was appreciated by her counterparts. Under Tai's guidance a 'National Conference on Higher Education: Retrospect and Prospects' was held in the University of Rajasthan. The endeavour of the symposium was to take stock of the state of higher education in Rajasthan and evolve strategies to achieve academic excellence in the emerging scenario of privatization and globalization.
And then – The President of India
In June 2007, when she resigned from the post of Governor to head towards the highest office, there were mixed feelings all around. The staff would miss her affectionate and caring temperament. At the same time there was an air of gaiety; that their Governor would shortly be the President of the country. Soon, a much larger population would get a chance to witness her professional prowess and share the copious affection which overflows from her.
Tai filed her nomination on 30 June, 2007 and won the election with 6,38,116 votes against 3,31,306 votes of Shri Bhairon Singh Shekhawat. She was going to be the First Woman President of India and the First Woman Commander-in-Chief of the Indian Armed Forces. She took oath at 14:30 hrs in the Central Hall of the Parliament on 25 July, 2007 becoming the Twelfth President of India.
Smt. Pratibha Patil's Political Journey