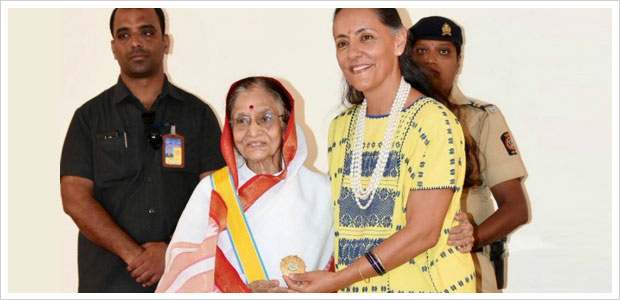 Honored with 'Órden Mexicana del Águila Azteca' Award.
Former President Smt. Pratibha Patil received the 'Order of the Aztec Eagle' award from the Ambassador of Mexico to India, Melba Pria on Saturday, 1st June 2019. This is Mexico's highest civilian honour for her contributions to cement the India-Mexico business partnership during her presidency.
The ceremony was held in the MCCIA Bhavan, Pune on Saturday 1st June 2019. With this, Smt. Pratibha Patil becomes the second Indian head of the state to get the award after late President S Radhakrishna.
Dr. Babasaheb Ambedkar Library Inauguration function at Symbiosis on 21.11.2015
Mrs. Pratibha Patil inaugurated the new Dr. Babasaheb Ambedkar Library at the Symbiosis Insitute campus along with Maharashtra CM Devendra Fadnavis and Union Minister Ramdas Athawale. In her speech, madam threw light on the conversations between Dr. Ambedkar and Mahtama Gandhi on issues like untouchability and social reformation during the Poona Pact. She also spoke of Dr. Ambedkar's role in drafting the Indian Constitution, which she said, is like a security cover for all citizens and empowers even the weakest link in society.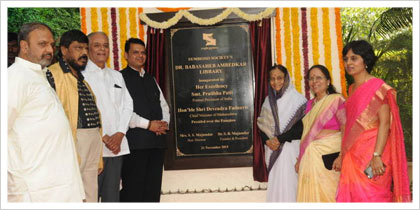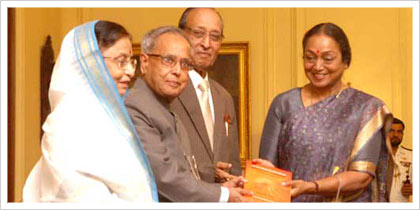 Release of the book "Reinventing Leadership" by the Vice President
The Vice-President of India, Shri Hamid Ansari, released the book "Reinventing Leadership" written on Mrs. Pratibha Patil's Presidency period by Mrs. Sunaina Singh.
Mr. Raghunath Mashalakar, renowned scientist, and Mr. Bhism Narain Singh, former Union Minister and Governor, also spoke about madam's social work on this occasion.
Padmabhushan Dr. H. L. Hiranandani Oration and Award function
Padmabhushan Dr. H.L. Hiranandani, Oration and Award function was organized by Hiranandani Hospital in Mumbai. It was attended by Mrs. Patil and Governor of Maharashtra, Shir Vidyasagar Rao. Padmabhushan Dr. Suresh H Advani was presented an award for his contribution in the field of medical oncology by Hiranandani Trust.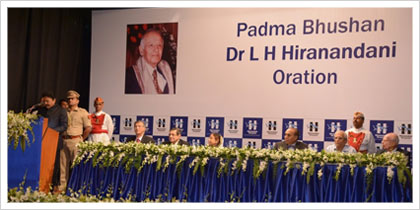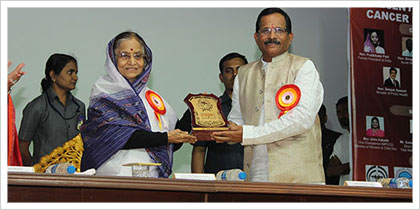 Inauguration of All India conference on Prevention of Cancer
Mrs. Patil inaugurated an "All India Conference on Recent Advances in Cancer Management" which was organized in Pune by Dr. Bagul and Shyamala Desai, a social worked. In her speech she encouraged the medical fraternity to follow a multi-disciplinary approach for cancer treatment and palliative care. She suggested that best practices from Homeopathy and Ayurved could be combined with Allopathy to make the treatment more effective and cheaper for common man.
Former President Ramnath Kovind receives Smt. Pratibha Devisingh Patil at 12 Janpath

On 27th July, Smt. Pratibha Devisingh Patil met Former President Ramnath Kovind at 12 Janpath after the successful end of his presidential term. Smt. Pratibha Patil was accompanied by her daughter. They greeted Ramnath Kovind with bouquets. Savita Kovind and her daughter accompanied Former President Ramnath Kovind.

Read More

Smt. Pratibha Devisingh Patil shares her views on being a Political President!

Years ago, in an interview with Outlook India, Former President Smt. Pratibha Devisingh Patil said that she will be the Political President. Outlook India quoted 'met the new incumbent at Rashtrapati Bhavan and finds that she has a lot of steel under that demure persona'. Indeed, Smt. Pratibha Patil proved her mettle during her presidential term.

Read More

A meet with the President 'Droupadi Murmu' at Rashtrapati Bhavan

Swearing in Ceremony of the 15th President of India It was a privilege to attend the swearing-in ceremony of the 15th President of India, Mrs. Droupadi Murmu, on 25th July, 2022 in the historic Central Hall of the Parliament.

Read More

Akshara family wishes you a very Happy Birthday & a Heartfelt Gratitude

Students of Akshara International School shared photos of madam's visit to their campus and reminisced last year birthday celebration. They shared a beautiful poem composed on her life journey.

Read More

In Late Shri. Pranab Mukherjee, India has lost a great Politician, Intellectual & Philosopher!

Although our interaction was less in recent times, I remember the days when we used to discuss the horizons of topics. He was an ocean of knowledge. He always worked for the betterment of the nation. We truly lost a great gem. You will be missed, Pranab Daa!

Read More

Pratibha Patil: Sonia Gandhi's 'that' sentence made history in India.

Today, July 21, 2020 marks the 13th anniversary of Pratibha Patil's victory in the presidential election. Therefore, it was decided to nominate Pratibha Patil, a review of her political career.

Dr. A. P. J. Abdul Kalam's term as President of India came to an end and the election of a new President was in full swing. That year was 2007 ...

Read More

Honored with 'Órden Mexicana del Águila Azteca' Award.

Former President Smt. Pratibha Patil received the 'Order of the Aztec Eagle' award from the Ambassador of Mexico to India, Melba Pria on Saturday, 1st June 2019.

This is Mexico's highest civilian honour for her contributions to cement the India-Mexico business partnership during her presidency. The ceremony was held in the MCCIA Bhavan, Pune on Saturday 1st June 2019. With this, Smt. Pratibha Patil becomes the second Indian head of the state to get the award after late President S Radhakrishna.

Read More

In Mrs. Sushma Swaraj, India has lost a great women leader!

Met her few months ago at Rashtrapati Bhavan during the Government's swearing-in-ceremony. In Mrs. Sushma Swaraj, India has lost a great women leader! Besides her long contribution to the nation, she will be remembered for her humane touch.

May her soul rest in peace and my heartfelt condolences to her family members.

Padmabhushan Dr. H. L. Hiranandani Oration and Award function

Padmabhushan Dr. H.L. Hiranandani, Oration and Award function was organized by Hiranandani Hospital in Mumbai. It was attended by Mrs. Patil and Governor of Maharashtra, Shri Vidyasagar Rao. Padmabhushan Dr. Suresh H Advani was presented an award for his contribution in the field of medical oncology by Hiranandani Trust.

Release of the book "Reinventing Leadership" by the Vice President

The Vice-President of India, Shri Hamid Ansari, released the book "Reinventing Leadership" written on Mrs. Pratibha Patil's Presidency period by Mrs. Sunaina Singh. Mr. Raghunath Mashalakar, renowned scientist, and Mr. Bhism Narain Singh, former Union Minister and Governor, also spoke about madam's social work on this occasion.

Read More