Member of Legislative Assembly (MLA)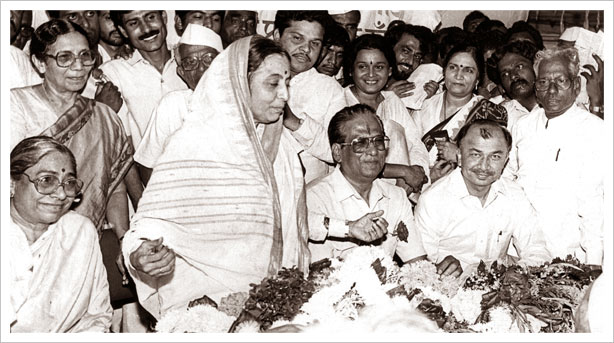 Maharashtra State Legislative Assembly (Vidhan Sabha) – The Fertile Ground That Shaped Tai
Ever since Smt. Pratibha Patil stepped into the world of politics, life turned into a whirlwind; it has been for her a long haul, a tough grind, an uphill battle. But when work becomes passion it is truly gratifying; so has been the case with Tai (- "elder sister" in Marathi language; a name by which she is fondly addressed in her home state of Maharashtra out of respect and love)
Maharashtra State Legislative Assembly (Vidhan Sabha) is that fertile ground which shaped Tai by providing her insight into the functioning of the Government departments and gave her a platform for public work, in particular for the under privileged and for women.
1962 – Entered Assembly as Youngest Member
After a hard fought election, Tai became youngest member of the Legislative Assembly at the age of twenty seven years. Soon meeting people, resolving problems, touring the constituency became an inseparable part of Tai's life. She discharged her responsibilities as an MLA with panache and compassion; gave reasonable assurances and made sincere efforts to resolve the issues she was convinced about. Her efforts were never half-hearted and passive; she ensured that every case which came for her consideration was pursued to its finality.
The Chinese aggression shook the nation the same year when Tai made her debut in politics. As a young MLA, she responded to this clarion call and started an initiative to collect funds from her constituency; these were utilized for the welfare of the affected soldiers. She took the initiative to start up a 'Zila Mahila Gruharakshak Dal' in Jalagon to supplement the stretched out security services, and set an example by passing all the requisite tests and being appointed as its Commander. She delivered a stirring address to the women to inspire them to serve the nation in its hours of need. All members were trained in the use of rifles and participated in a daily morning drill. Smt. Pratibha Patil herself was conversant with handling a rifle. She motivated women to not only be strong in self-defence and protect oneself but also to be their own masters. From Smt. Pratibha Patil, this was a significant message for the meek and submissive women.
She worked hard to solve problems of her electorate like taking up the cause of the textile workers of Gendalal Textile Mill in Jalgaon which was closed since 1954. She highlighted the plight of the 1500 workers in the Vidhan Sabha and her effort lead to setting up of a committee by the Government to review its condition.
Her approach of dealing with people directly and single handedly had its pros and cons. While it became tiresome and unmanageable on many occasions, it helped her form a perfect rapport with the people; which came in good stead in the days to come. A strong foundation cemented with the goodwill of the people helped her in winning all the Assembly elections she stood for in future.
Her father wanted her to live up to the family tradition and study Law. On his insistence she took admission in Government Law College, Mumbai and after a lot of juggling of studies with constituency work she got her Law Degree in 1965. She was now a politician with legal insight – an enviable combination indeed.
1967 – Became Deputy Minister
During her second stint as MLA from 1967 to 1972 Tai was made the Deputy Minister and was accorded the portfolios of Public Health, Prohibition, Tourism, Housing, Parliamentary Affairs and Social Welfare.
Her keen sense of justice was apparent when she spoke about the 'atrocities and social boycott of the Harijans'. She said that 'instead of showing sympathy we should actually try to reduce their woes…We all have to help the Government to give these classes an opportunity to represent their community at social and political level.'
As a minister, Tai was also known for taking an unyielding stand whenever it was imperative. She was convinced about the adverse repercussion of the play 'Sakharam Binder' which was released in the early seventies and took every possible measure to regulate its viewing. She ensured that the Police Second Forum Bill was introduced so that the government could exercise required control. While introducing this Bill, Tai as Minister of Social Welfare stated, "Vulgarity, per se is very subjective, what is perceived as vulgar by one may not be so in the eyes of the other; but here we have to think of the society at large …."
1972 – Became Cabinet Minister
Tai became a Cabinet Minister in her third stint as an MLA and was accorded the portfolio of Social Welfare, Public Health, Prohibition, Rehabilitation and Cultural Affairs and Education. During this period she focused on upliftment of women through financial independence and education.
Tai was sentient of the social evils prevailing in the society, especially 'addiction to liquor'. After the famines in 1976, 'drought famine relief work' was in full swing. While monitoring this program along with Indira Gandhi's 'Poverty Alleviation Programmes', she came to know that though the family income of the families of the poor had increased, their quality of life had not been augmented as the husbands frittered away their remuneration in increased liquor consumption.
The plight of poor and illiterate women of Maharashtra saddled with alcoholic husbands, moved her to create opportunities for them to earn their own livelihood. As Minister in charge fo the Department of Social Welfare, she established the 'Mahila Arthik Vikas Mahamandal' (Women's Financial Development Corporation) and also an all Women's Bank. She wanted women to be financially independent, and for economic independence women must be efficient in their work. She pushed for establishment of 'Technical schools' in rural areas to train them, for efficient implementation of Laws relating to women and for organization of Exhibition and sale of home- made products by women.
Later at her behest, the 'Mission for Socio-Economic Empowerment of Women' was announced in the year 2009 by Government of India, wherein providing micro-finance at low rates of interest to the women below poverty line was one of the primary charters.
In 1977, when Tai was Minister of Education, most colleges in Maharashtra were in financial distress and did not have sufficient funds for paying salaries to teachers. She decided to pay their salaries from the Government treasury becoming the first state in the country to implement such an adventurous and praiseworthy decision. She also put forth a code of conduct for the teachers saying that 'while Government is trying to improve the quality of education, it should simultaneously try to improve the standard of teachers.'
1979 – Elected as Leader of Opposition
In 1977 elections, the Janta Party came to power with Morarji Desai as the Prime Minister. The coalition party demanded action against Indira Gandhi for her actions during 'Emergency'. On 19 December, 1977 Indira Gandhi was put behind bars. Tai, in Jalgaon took a procession on the streets as a protest and she was arrested and detained for ten days.
During the 1978 State Assembly elections, despite the dynamic leadership of Vasantdada Patil, Congress witnessed a major setback in Maharashtra. Congress sat in the opposition and Tai was made the Leader of the Opposition. Tai bore this responsibility with equanimity. Having held positions of Deputy Minister and Cabinet Minister in the Maharashtra Assembly since 1967, her insight into the functioning of the Government was phenomenal. It enabled her to adequately scrutinize, appraise and criticize the policies of the Government. She participated actively in most Call Motions, Question Hours, Budget Debates and No Confidence Motions keeping the Government accountable and on track.
While speaking on the budget in 1979, she brought up issues of loan waiver, appraised the Government of the socio-economic problems emerging as an offshoot of the employment generation programmes, criticized the non-granting of capital for the Mahila Bank resulting in reduced contribution by women in the economic process.
Under her charismatic leadership the Congress party in Maharashtra utilized this period as 'Preparation for Government' time. The grounds of victory for Congress in Maharashtra were consolidated.
1980 – Cabinet Minister
Being the Leader of Opposition, she was the most likely choice for the Chief Minister, if Congress came back to power. Congress won the 1980 state elections and Tai emerged as a winner from Edlabad constituency despite impediments created by the opposition. However, she was not made the Chief Minister, as Congress decided to give chance to a member of a minority community. She accepted the decision with grace and was later assigned the portfolio of Minister for Urban Development, Civil Supplies and Social Welfare, a position she held till 1985.
1985 – Move to National Politics
Tai was thereafter drawn into national politics – she moved in as a Rajya Sabha Member where she was subsequently elevated to the position of Deputy Chairman, She held the reins till November 1988; then came back as the President, Maharashtra Pradesh Congress Committee. While holding this assignment in 1989, Tai spearheaded the campaign for all Congress candidates, contesting for the Lok Sabha seats in Maharashtra. She herself won the from Amravati constituency by a huge margin of 55,481 votes and was sworn in as the Member of Parliament on 9 July, 1991
Smt. Pratibha Patil's Political Journey