Emphasis on Need for Convergence of Government of India Schemes for Gender Equality
As early as in February 2008, Smt. Pratibha Patil decided to have detailed discussions on different schemes for gender equality so as to bring about convergence of Government of India schemes for women welfare. She emphasized that effective convergence of schemes run by various departments and ministries at the grassroots level was the only way to avoid duplication of efforts, and to ensure greater impact on stakeholders. These discussions resulted in the formation of a Committee of Secretaries for convergence and coordination of government programmes for gender equality and lighting social evils, and also Task Forces by the concerned Ministries for better implementation of schemes for target groups.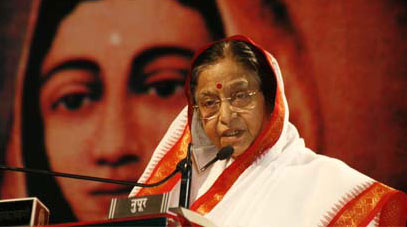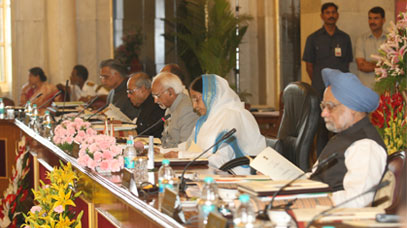 Committee of Governors 0n Socio-Economic Development and Empowerment of Women
To further her efforts in this direction, and in keeping with her desire to empower women, the Smt. Pratibha Patil set up a Committee of Governors "to study and recommend strategies for speedy socio economic development and empowerment of women" in the later half of 2008. The Committee gave its recommendations in February 2009 which was considered by a Group of Ministers (GoM) and its recommendations were accepted by the Government of India.
Creation of National Mission for Empowerment of Women
This endeavour of Smt. Pratibha Patil bore fruit resulting in the creation of the National Mission for Empowerment of Women (NMEW) on March 8, 2010 by the Government of India, with the Ministry of Women and Child Development as its nodal agency.
While launching the Mission, the Smt. Pratibha Patil said, "we are taking on this day another step towards achieving the collective national goal of holistic empowerment of all women of this country. My belief has been that empowerment of women is crucial for the empowerment of our nation".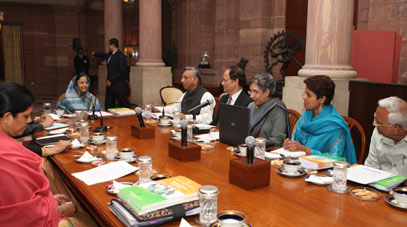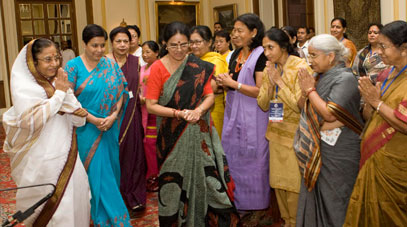 Establishment of National Mission Authority
The National Mission Authority (NMA) of the National Mission for Empowerment of Women came into existence on September 3, 2010. The NMA has the Prime Minister as the Chairperson and 12 Ministers concerned with socio-economic development of women. The Deputy Chairman, Planning Commission, the Chairperson, National Commission for Women and Minister of State, Women and Child Development (WCD) are the members. The Authority has two representatives from civil society and two Chief Ministers as nominated by the Prime Minister.
Setup of National Resource Centre for Women (NRCW)
A National Mission Directorate along with a National Resource Centre for Women (NRCW) was set up within the Ministry of WCD during 2011-12 as a focal point for the Mission at the National level. At present, NRCW has 22 experts working on various sectoral areas.
State Mission Authority (SMA) has been notified by 19 States and Union Territories. State Resource for Women (SRCW) has been set up in 6 States. Another 10 States/Union Territory Governments are in the advanced stages of setting up SRCWs.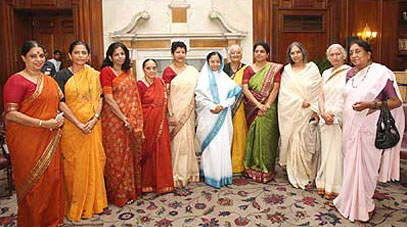 Detailed action plan for three years focusing on convergence was prepared by the Ministry of Women and Child Development, in consultation with twelve partner Ministries such as Human Resource Development, Finance, Housing & Urban Poverty Alleviation, Rural Development, Panchayati Raj, Agriculture and Cooperation, Health & Family Welfare, Micro, Small & Medium Enterprises, Law & Justice, Environment & Forests, Labour & Employment, Social Justice & Empowerment and the Flaming Commission, and also Civil Society Organizations (CSOs) and experts.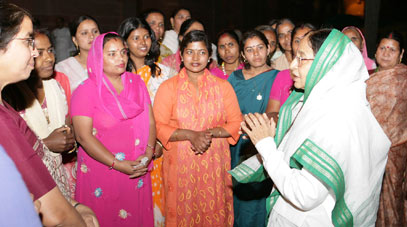 High Level Committee on Status of Women
A high level Committee was set up with Justice Ruma Pal as Chairperson to undertake a comprehensive study to understand the status of women in India and evolve appropriate policy interventions, based on contemporary assessment of women's needs.
Restructuring and Expansion of Rashtriya Mahila Kosh
The Rashtriya Mahila Kosh, (RMK) was set up as a Society in 1993 for livelihood support and asset creation for women in the unorganized sector.
The report of the Committee of Governors in February, 2009 made recommendations for restructuring RMK into a Development Bank, and an increase in its corpus and the Group of Ministers (GoM) set up to examine the recommendations of the Committee of Governors, also suggested similar recommendations to re-structure RMK with appropriate enhancement of its authorized and paid up capital, so that it can function as a single window facilitator for Women's SHGs. According to the recommendations of the Committee of Governors and the GoM, the Finance Minister in his Budget Speech of 2009-10 had announced the restructuring and expansion of the RMK.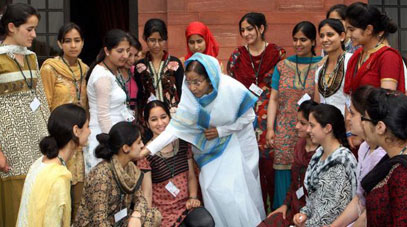 Smt. Pratibha Patil was constantly thinking of ways and means to improve the position of women in our country. It seemed clear to her that the most infallible method for women to be truly liberated was through financial independence. Towards this end, she came up with a five-point formula for women:
For economic well-being, it is not only important for women to be busy in work, but also to be self-confident and efficient in their work.
'Technical Schools' for women should be established in rural areas.
There should be efficient implementation of laws relating to women.
Organization of exhibition and sale of homemade products by women.
Participation of women in different processes.
Smt. Pratibha Patil could not rest until she came up with an idea: she envisaged a government sponsored corporation that would extend financial aid to the under-privileged women so that they could set up their own little business and sustain their families.
The plight of poor and illiterate women of Maharashtra saddled with alcoholic husbands, moved her to create opportunities for them to earn their own livelihood. This culminated in the establishment of the 'Mahila Arthik Vikas Mahamandal' (Women's Financial Development Corporation) in 1976 when she was Minister of Social Welfare. Smt. Pratibha Patil was convinced that if she would not use her position for the upliftment of women, then her entire career would have been fruitless. The models she established were highly successful. It wasn't long before other state governments began to follow suit.
Smt. Pratibha Patil also argued fervently for setting up an all-Women's Bank that would be "operated by women, for women." It was not an easy task getting the government and the Reserve Bank of India to initiate the enterprise, but eventually, after much persuasion, the banks were established, making resources and finance available to small business enterprises run by women.
Smt. Pratibha Patil was also concerned about the safety of women in Indian metropolitan cities as there has been a surge in the number of crimes committed against women. Speaking at a function in an educational institution at Lucknow, she remarked that the law enforcement agencies need to focus on the safety of women. Along with the importance of empowerment, these issues need to be addressed simultaneously, she said. Commenting further on the issue, Smt. Pratibha Patil said. "Families worry about the lack of security for women members of the family in India of the 21st Century. This deserves the fullest attention of law and order authorities. To create stable societies women need to be empowered. Societies which understand this are not only able to deal with the changes needed for it, but can mould change itself."
Smt. Pratibha Patil was referring to the increase in crime against women in several metro cities. Women, especially those working until late hours, had become the victims of sexual crimes, like molestation and tape in addition, the age old problem of women battered by their husbands continues.
In 1972, Smt. Pratibha Patil started a trust called 'Shram Sadhna' which was dedicated to providing low cost hostels exclusively for working women. This, a pioneering effort as she was moved by empathy on noting the difficulties faced by young women coming from small towns to work in India's huge metropolitan cities.
Smt. Pratibha Patil reached out to the war widows in Rajasthan, in a truly effective manner during her tenure as Governor of that state. She made a genuine effort to solve the problems that some of them faced with various government departments. She wrote around twelve hundred letters to the widows listed in Rajasthan, resolving pending issues of almost four hundred of them. She revitalized the defunct War Widows' Hostel and Rehabilitation Centre in Jaipur, meant to be a safe haven for widows.
In Rajasthan, madam initiated a unique women based approach to rural healthcare wherein a lady 'Community Health Volunteer' gets trained in basic medical procedures and equipped to serve other rural women in the area of healthcare. Earlier as a Deputy Minister of Health in Maharashtra, madam had arranged for lady doctors to head the Primary Health Centers in rural areas in order to increase the comfort level of women patients.