Emphasis on Need for Convergence of Government of India Schemes for Gender Equality
As early as in February 2008, Smt. Pratibha Patil decided to have detailed discussions on different schemes for gender equality so as to bring about convergence of Government of India schemes for women welfare. She emphasized that effective convergence of schemes run by various departments and ministries at the grassroots level was the only way to avoid duplication of efforts, and to ensure greater impact on stakeholders. These discussions resulted in the formation of a Committee of Secretaries for convergence and coordination of government programmes for gender equality and lighting social evils, and also Task Forces by the concerned Ministries for better implementation of schemes for target groups.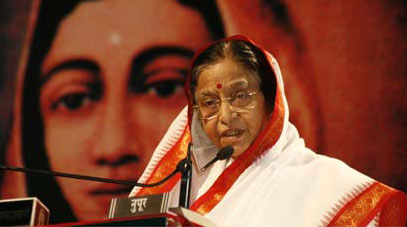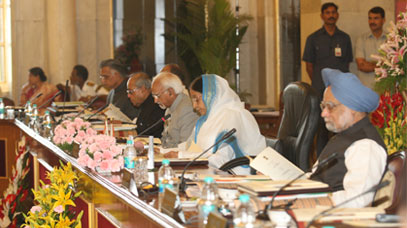 Committee of Governors 0n Socio-Economic Development and Empowerment of Women
To further her efforts in this direction, and in keeping with her desire to empower women, the Smt. Pratibha Patil set up a Committee of Governors "to study and recommend strategies for speedy socio economic development and empowerment of women" in the later half of 2008. The Committee gave its recommendations in February 2009 which was considered by a Group of Ministers (GoM) and its recommendations were accepted by the Government of India.
Creation of National Mission for Empowerment of Women
This endeavour of Smt. Pratibha Patil bore fruit resulting in the creation of the National Mission for Empowerment of Women (NMEW) on March 8, 2010 by the Government of India, with the Ministry of Women and Child Development as its nodal agency.
While launching the Mission, the Smt. Pratibha Patil said, "we are taking on this day another step towards achieving the collective national goal of holistic empowerment of all women of this country. My belief has been that empowerment of women is crucial for the empowerment of our nation".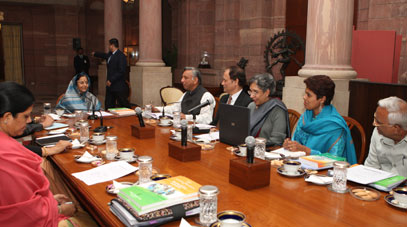 Establishment of National Mission Authority
The National Mission Authority (NMA) of the National Mission for Empowerment of Women came into existence on September 3, 2010. The NMA has the Prime Minister as the Chairperson and 12 Ministers concerned with socio-economic development of women. The Deputy Chairman, Planning Commission, the Chairperson, National Commission for Women and Minister of State, Women and Child Development (WCD) are the members. The Authority has two representatives from civil society and two Chief Ministers as nominated by the Prime Minister.
Setup of National Resource Centre for Women (NRCW)
A National Mission Directorate along with a National Resource Centre for Women (NRCW) was set up within the Ministry of WCD during 2011-12 as a focal point for the Mission at the National level. At present, NRCW has 22 experts working on various sectoral areas.
State Mission Authority (SMA) has been notified by 19 States and Union Territories. State Resource for Women (SRCW) has been set up in 6 States. Another 10 States/Union Territory Governments are in the advanced stages of setting up SRCWs.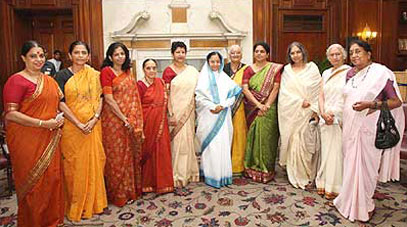 Detailed action plan for three years focusing on convergence was prepared by the Ministry of Women and Child Development, in consultation with twelve partner Ministries such as Human Resource Development, Finance, Housing & Urban Poverty Alleviation, Rural Development, Panchayati Raj, Agriculture and Cooperation, Health & Family Welfare, Micro, Small & Medium Enterprises, Law & Justice, Environment & Forests, Labour & Employment, Social Justice & Empowerment and the Flaming Commission, and also Civil Society Organizations (CSOs) and experts.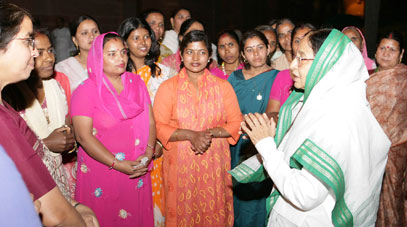 High Level Committee on Status of Women
A high level Committee was set up with Justice Ruma Pal as Chairperson to undertake a comprehensive study to understand the status of women in India and evolve appropriate policy interventions, based on contemporary assessment of women's needs.
Restructuring and Expansion of Rashtriya Mahila Kosh
The Rashtriya Mahila Kosh, (RMK) was set up as a Society in 1993 for livelihood support and asset creation for women in the unorganized sector.
The report of the Committee of Governors in February, 2009 made recommendations for restructuring RMK into a Development Bank, and an increase in its corpus and the Group of Ministers (GoM) set up to examine the recommendations of the Committee of Governors, also suggested similar recommendations to re-structure RMK with appropriate enhancement of its authorized and paid up capital, so that it can function as a single window facilitator for Women's SHGs. According to the recommendations of the Committee of Governors and the GoM, the Finance Minister in his Budget Speech of 2009-10 had announced the restructuring and expansion of the RMK.